http://www.youtube.com/results?search_query=boogie+punkers
http://www.myspace.com/boogiepunkers













The Boogie Punkers es una banda de rock and roll acelerado, swing psicótico, rockabilly alternativo y surf-punk. Un combo vertiginoso, cual "hot rod" cromado con el depósito lleno y en constante "pole position". La banda sonora de los 50´s interpretada en el siglo XXI.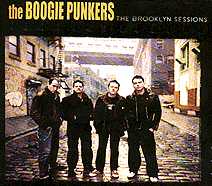 *** "THE BROOKLYN SESSIONS" (2005) ***



Cuarteto formado en Bilbao en el año 2001, en poco tiempo da forma a un repertorio propio y original que busca dotar de nuevas estructuras al rock & roll clásico. Sin miedo a mezclar estilos de una forma natural, sus canciones pueden viajar del swing al punk-rock sin reparos en utilizar la electrónica, el ukelele, samplers o contrabajo.