Inauguro mi contribución con este trio instrumental de rock psicodélico cuyos temas nacen de largas jams, y que luego reinterpretan en cada uno de sus conciertos. Éste es su primer álbum.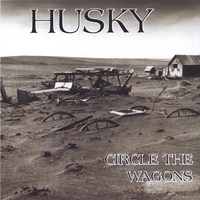 Husky - Circle The Wagons (2006)
Más información en su
página web
, de donde extraigo la siguiente descripción a cerca del sonido de este disco: "Circle the Wagons: Southern rock filtered through three decades of hard rock, blues, and desert metal".
Planean sacar nuevo LP en noviembre.